Walking paths around Saint Rémy la Varenne
Why not enjoying nice days to walk one of the paths around the village? Download the global map to print it and keep it in your pocket!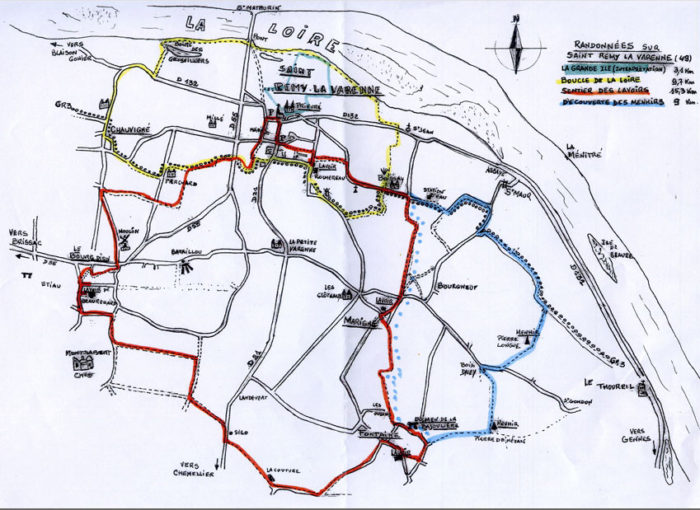 La boucle de la Loire (9.7 km) (the Loire loop)
A walk that drives you along the Loire river, in a liable to flooding area. Discover various landscapes and numerous orchards during a pleasant walk.
Le sentier des lavoirs (15.3 km) (the washing-places path)
During this walk, you will enjoy the covered washing-places of Saint Rémy la Varenne. Washing-places are periodically maintained. They were in use up to the 50's.
La découverte des menhirs (9 km) (menhir discovery)
Neolithic dolmens and menhirs (standing stones) are established all around the area. This walk will make you discover some of them. Make working your imagination, how lived people at this time? How did they set up these monuments? How was the landscape during Neolithic?
A walk to throw into a far past, that only remained these powerful relics.
Le sentier d'intreprétation de la grande île (3 km) (large island interpretation path)
Untameable Loire river… Come to stroll in this remarkable landscape, sculpted by both the river and humans that build a tall levee, planted hedges, dig out (too much) the river bed to extract sand… This large island path will allow you to observe a preserved area hosting numerous Loire birds and unusual plants (tadpole ('têtards') ash tree hedges, guinea-fowl fritillary, …).
Mixing walk and learning? What a pleasure! Directly download here and print the playful form to enjoy the trail with the family, using the interactive points all along the tour.
This path is proposed by the Loire-Anjou-Touraine Regional Nature Park